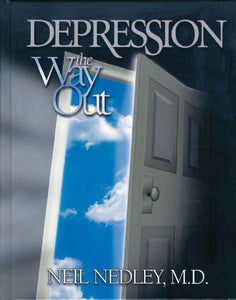 Books for Health and Hope
Depression: The Way Out
Regular price
$75.00
$0.00
Unit price
per
Neil Nedley, M.D., internist, author, researcher, and lecturer, has responded to a chronic need in America–the need for an updated and definitive work on the subject of depression. The author of the powerful and popular book, Proof Positive, now turns his attention to a malady that plagues up to one patient in three who seek medical help. Treatment of depression is most often attempted with medication. Dr. Nedley introduces an entirely new approach by finding and treating the actual underlying cause.
Through his ongoing study of the latest scientific research related to diseases of the mind, combined with years of clinical experience, Dr. Nedley committed himself to finding the source problems that cause depression rather than just anesthetizing the symptoms with medication. In his now familiar, easy-to-understand writing style, he provides an in-depth comprehension of the body's physical, mental, and spiritual functions. And like Proof Positive, every finding is extensively documented with research references.
This book begins with an explanation of the brain and how it works, with an understandable description of depression in its various forms. In successive chapters, explanations in laymen's terms are given that reveal it to be more than a mental illness; its many causes are identified, along with the effects it has on the human psyche, and the important role nutrition and lifestyle play in managing and overcoming this malady.
Dr. Nedley next examines the role of herbs and medications in the treatment of depression: their benefits, side effects, and the best way to successfully discontinue them. Considerable space is also devoted to the role stress plays in causing depression and to adequately control it.
The information in the concluding chapter is sure to bring hope to those in the grip of this dark disease. Dr. Nedley shows the unique role of the frontal lobe of the brain to every aspect of mental health, and exciting, new ways to strengthen this often overlooked area of power. You will read about his successful 20-week cure that has brought relief to so many of his patients. You will undoubtedly want to share this book with family and friends who are looking for The Way Out of depression.
---