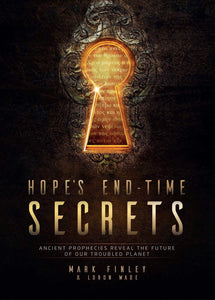 Revelation Fulfilling
Hope's End-Time Secrets: Ancient Prophecies Reveal the Future of our Troubled Planet
Regular price
$35.00
$0.00
Unit price
per
The mysterious dream of an ancient Babylonian emperor, decoded by a wise Jewish man, recounts the fall of four great empires, the rise of the European monarchies and shares historic details that took place just as they were predicted. The last part of this millennial prophecy is about to be fulfilled. What will take place will radically alter the world's panorama and the life of every person living on this planet. 
This book is replete with details regarding ancient prophecies, their historical fulfilment and their future consequences. In a world filled with uncertainty and conflicts, you will find the assurance to face history's most disturbing moments. Upon opening this book, you will discover a glorious future, where there will be no more suffering. 
Authors:
MARK FINLEY is a well-known theologian and speaker. He has written more than seventy books and has given seminars on biblical prophecies in more than eighty countries. 
LORON WADE is a theologian and an educator. He has worked in eleven countries for the past forty years. He has written several books; among them, the best seller The Ten Commandments, with more than two million copies distributed. 
---